Welcome to Westchester Jewish Center
No front page content has been created yet.
Events at WJC
Brotherhood World Wide Wrap



Sunday, February 7th at 8:30am
Let's break our record of 86 tefillin wrappers this year followed by breakfast & talk with our own Jacques Steinberg, who will discuss his book, You are an Ironman. Hear some inspiring stories of persistence and endurance from his book. All are welcome!
PJ Library Story Time

& Sing-Along
Sunday, February 7th at 11:00am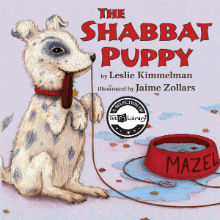 Join us in the WJC Library for our Shabbat PJ Library program. Eileen Fortuna, WJC Summer Camp Director, will read some of our favorite PJ books and Jean Young, Music Teacher, will lead us in song. Hear PJ Library author, Leslie Kimmelman, read from her book, Shabbat Puppy.
Social Action Community Day
Sunday, February 7th at 12:00pm
Dedicated to our neighbors at the HOPE Soup Kitchen. Help prepare salad, pasta, sandwiches; bake cookies; decorate bags & cards to accompany the meal. Activities for all ages. Questions & to RSVP, contact [email protected].

Israeli Dancing
Monday, February 8th at 7:30pm
Good for the mind, body and spirit. Led by world-famous teacher Shmulik Gov-Ari.
Learn about Jews Around the World
Thursday, February 11th at 8pm
Greek Jewry: To better understand what Greek Jewry is like today, we will welcome speaker Meredith Bilski, a professional in New York, who recently traveled to Greece and Bulgaria and helped launch a fundraising campaign benefitting the Greek Jewish community.
WJC Host Multi-Faith Service for Victims of Extremism



Sunday, February 21 from 3pm - 5pm

WJC is hosting an important multi- faith service organized by AJC for victims of violent extremism. Speakers include: Msgr. Kevin Sullivan, Catholic Charities; Rabbi Jeffrey Segelman, WJC and Dr. Alsafadi, Upper Westchester Muslim Society. All welcome. Optional Pre-Event: #We Walk Together at 2:30pm from Mamaroneck Harbor to the service at WJC. More info and RSVP here.